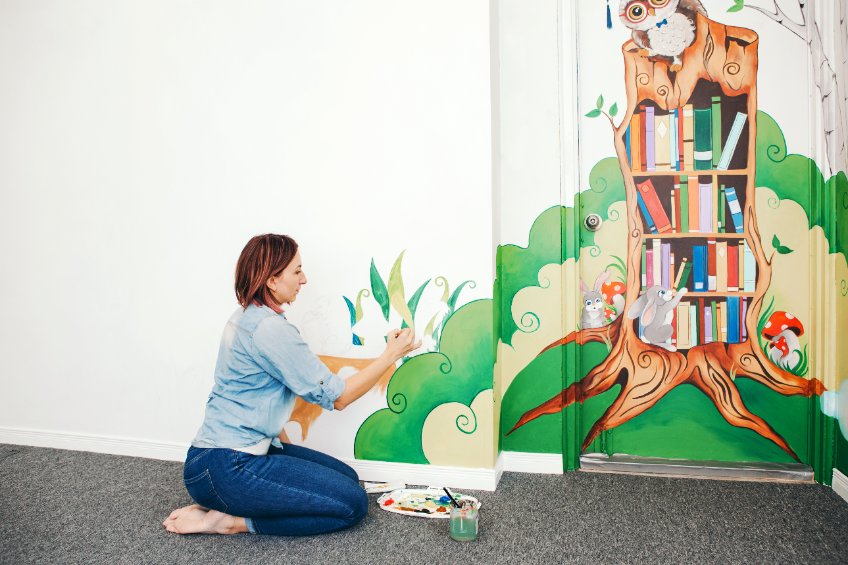 When it comes to running a successful mural painting business, there are a few key things you need to keep in mind. First and foremost, you need to have a passion for art and be able to translate that passion into your work. Secondly, you need to be highly organized and have good marketing skills. And lastly, you must be able to work well with clients and manage a team of muralists if you have one.
If you can master these three things, then you will be well on your way to having a successful mural painting business.
Here are the basic tips on how to run a successful mural painting business:
Passion is key
As we mentioned before, you need to have a passion for art if you want to succeed in this business. This means that you should be able to translate your passion into your work. You also need to be able to connect with your clients and understand their needs.
Organization is key
Another important aspect of running a successful mural painting business is being highly organized. This includes having a schedule and sticking to it, being efficient in your work, and keeping track of your finances.
Marketing is key
In order to attract clients and grow your business, you need to be able to market your services effectively. This means creating a strong online presence, networking with potential clients, and advertising your business
What are the costs associated with starting a Mural Painting Business?
The costs of starting a Mural Painting business can vary depending on the size and scope of your operation.
However, some of the main expenses you'll need to consider include the cost of supplies, equipment, and any necessary licenses or permits.
Additionally, you'll need to factor in the cost of marketing and advertising your business.
here are advanced tips to help you get started with your own mural painting business:
1. Decide what type of business you want to run
Develop a business plan. This document will outline your business goals, strategies, and financial projections.
Once you have a business plan in place, you'll need to obtain the necessary licenses and permits. You'll also need to purchase supplies and equipment and find a suitable location for your business.
Are you going to focus on residential properties or commercial businesses? Each type of client will have different expectations, so it's important to know what you want to specialize in.
Residential mural painting businesses cater to homeowners who want to add a personal touch to their homes. This can be anything from painting a child's nursery to creating an outdoor mural for the home.
Commercial mural painting businesses, on the other hand, work with businesses and organizations to create murals for their buildings. This can be anything from painting a mural on the side of a restaurant to creating an art piece for a corporate lobby.
The most important thing to remember when starting either type of business is that communication and customer service are key.
No matter what type of mural you're painting, you need to be able to work with your client to understand their vision and create a mural that meets their expectations.
2. Create a portfolio
When meeting with potential clients, it's helpful to have a portfolio of your previous work. This will give them an idea of your style and skills, and help them decide if you're the right fit for their project.
3. Estimate your costs
Mural painting can be a costly endeavor, so it's important to have a clear understanding of your expenses before starting a project. Make sure to factor in the cost of materials, labor, and any other associated costs.
4. Promote your business & Market your business
There are many ways to advertise a mural painting business. One of the most important things is to have a strong online presence.
This can be accomplished by having a well-designed website and being active on social media.
Additionally, it's important to network with potential clients and get your name out there as much as possible.
You can do this by attending events and conferences related to your industry, and by reaching out to potential clients directly. Additionally, you can advertise your business through print or online ads, or by partnering with other businesses in your area.
5. Stay organized
With so many moving parts, mural painting can be a chaotic business. Staying organized is key to keeping projects on track and avoiding costly mistakes. Make sure to keep detailed records of your clients, projects, and expenses.
6. Offer discounts
Discounts are a great way to attract new business and build goodwill with existing clients. Consider offering discounts for referrals, repeat business, or large projects.
7. Get insured
Mural Painting Business insurance is one of the best ways to protect your Mural Painting business.
This type of insurance can help cover the cost of damages to your property, as well as liability in the event that someone is injured on your property.
Additionally, business insurance can help you recover from any losses that occur as a result of business interruption, such as if you have to close your business temporarily due to damage from a natural disaster.
8. Stay safe
Mural painting can be a dangerous job, so it's important to take precautions. Always wear protective gear, such as gloves, goggles, and a respirator. And be sure to follow all safety guidelines when working with dangerous materials.
Make sure potential clients know about your business. Use word-of-mouth marketing, online directories, and social media to spread the word. And don't forget traditional marketing methods like flyers and business cards.
Final thoughts
Running a successful mural painting business takes hard work, dedication, and a bit of creativity. But if you're passionate about your art, it can be a rewarding career. Just be sure to follow these tips to give yourself the best chance for success